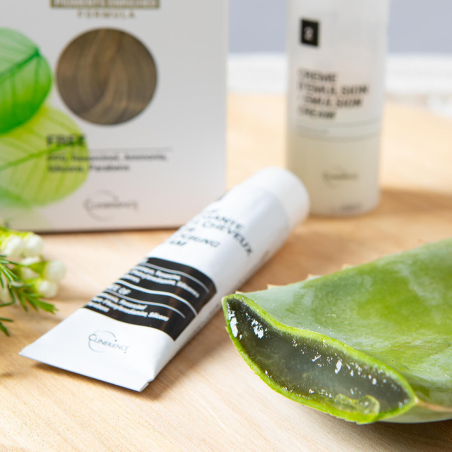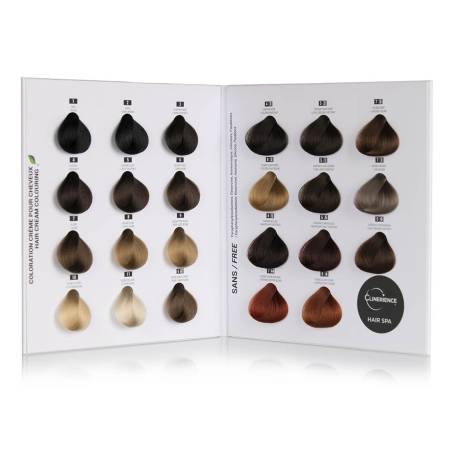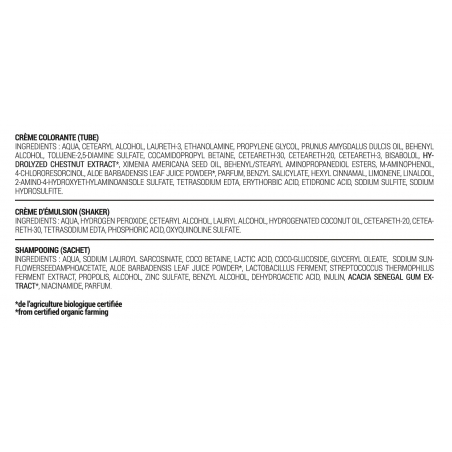 Dark N°1 - HAIR CREAM COLOURINGS WITH ORGANIC ALOE VERA
9 Reviews - Note : 4.3/5
AMMONIA-FREE HAIR COLOR - RESORCINOL-FREE
SILICONE-FREE - PARABEN-FREE
65 to 80% NATURAL INGREDIENTS
100% COVERAGE OF WHITE HAIR
Multi-item kit (*)
Natural-origin coloring for natural highlights, intense color and exceptional shine thanks to the synergy of 6 Natural Ingredients.
100% White Hair Coverage - Extra Gentle Formula
Genuine beauty treatment
Optimal efficiency 
(*) This kit contains :
- 1 Tube of 50 ml coloring cream,
- 1 Shaker of 50 ml cream emulsion (20 vol),
- 1 15 ml sachet of specific shampoo for colored or bleached hair,
- 1 pair of gloves.
- 1 Illustrated paper instructions.
For each application, pour the contents of the Tube de Coloration Crème (1) into the Shaker Crème Emulsion (2).

Close the cap of the shaker bottle (2) and shake vigorously until a well-mixed solution is obtained. Cut the applicator at the top of the bottle to begin the application process.

CASE 1: YOU HAVE NEVER Dyed YOUR HAIR OR HAVE DONE SO FOR MORE THAN THREE MONTHS.

After putting on the gloves provided, apply the product along the hair from the roots, separating each strand with the shaker applicator (2).

Apply product evenly to all hair, massaging gently.

Leave in for 30 minutes.

CASE 2: YOU WANT TO DYE YOUR ROOTS.

After putting on the gloves provided, apply the product along the hair from the roots upwards, separating each strand with the shaker applicator (2).

Leave on for 20 minutes.

Apply remaining product to entire length, including ends, and leave for 10 minutes.

Product does not drip.

Once set, pour warm water over hair and massage gently until product softens.

Rinse hair generously until the water runs clear.

After this, apply the Shampoo for colored hair supplied, to remove the coloring cream.

Use this shampoo only on the day of coloring.
ORGANIC ALOE VERA: Protects the scalp and hair structure, prevents irritation and redness, provides shine and texture and facilitates styling.
CHESTNUT EXTRACT: Nourishes and repairs hair fiber, very active on damaged hair.
XIMENIA NATURAL OIL: 100% natural oil rich in unsaturated fatty acids, nourishes, moisturizes and restructures hair.
PLANT CERAMIDES: act on repair and hydration, nourishing the fiber and restoring moisture to the scalp.
SWEET ALMOND OIL: Makes hair soft and shiny, protects the fiber from external aggressions (blow-drying, UV rays, atmospheric agents, etc.).
ORGANIC BISABOLOL: Plant from the Brazilian forest, rich in soothing and anti-inflammatory agents.
* Warning: this product may contain ingredients that may cause allergies.
Please check that you are not allergic to any of the ingredients in our formula.
FREE OF: PARABENS/GMO/SILICONES/SULFATES/MINERAL OILS
NO ANIMAL INGREDIENTS
---
NOIR N°1 COLORATION NATURELLE À L' ALOE VERA BIO
---
couleur noir aloevera bio
---
Coloration facile à utiliser et efficace
---
Belle coloration respectueuse du cheveu
Customers who bought this product also bought:

Salim M.

(Cachan)
fell in love with Dark N°1 - HAIR CREAM COLOURINGS WITH ORGANIC ALOE VERA
last seen 9 days • par Développeur PrestaShop
Already 68 orders of this product!